One of the Foret de Sevens series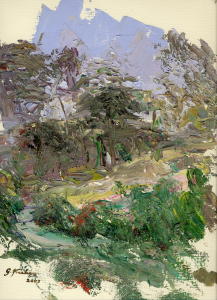 By Gordon Frickers 35 x 25 cms (13¾" x 9¾"), available as a signed print from £172.00, original available.
The Painting
Takes it's title from a part of the forest clearly signed 'taking of mushrooms forbidden', painted Plien aire, this landscape painting was produced as the second that day on the same location.
The first painting was a long slow careful analysis, intense looking, considered painting.
By the time it was complete 4 hours later Gordon had a reasonable understanding of the subject and a quantity of mixed colours to good to waste.
This exceptional second painting is much freer, very original, semi abstract study that with every viewing invites your imagination to 'play time'.
The Foret de Sivens 
One of only two ancient forests in France that remain unspoilt.
T: + 44 (0)1865 52 2435 
or Skype 'gordonfrickers'
Email: info at frickers.co.uk
Gordon Frickers ©  05,03,16 updated 02.09.2016
Copyright 2016:
Mutually Advantageous, Please Read Carefully.
For professional purposes we are happy to issue licences.
Always credit his name and where possible this web site.
Quoting your source helps your credibility, the artist and others to find and enjoy this art.
For educational and private use we allow a free copy. However please note; as with all artist's work, by International law these pictures and texts belong to the artist and his descendants, so may only be copied after written permission and for commercial use, after a copyright fee has been agreed and paid.
Respect the long hours, years, the art and texts, don't infringe.
Our fees are friendly our terms always reasonable.
You are cordially invited to enjoy the fun and fascination of following The Art of Gordon Frickers on https://artfrickers.com/blog/ and or https://www.facebook.com/gordon.frickers
Contactez Nous




T : + 44 (0) 1865 52 2435 ou par Skype » gordonfrickers




Email : info @ artfrickers.com





Vous êtes cordialement invités à suivre L'art de Gordon Frickers sur le BLOG et via  

www.facebook.com/gordonfrickers