An artist's eye in the forest of Sivens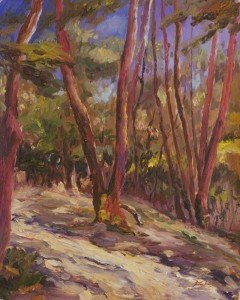 Landscape painting by Gordon Frickers measuring 40 x 50 cms (15¾" x 19¾"), oils, price £1500.00
The painting:
Trees are generally regarded as impossible to paint accurately .
This picture is one of a series made on location in the forest of Sivens in the Tarn, one of the two most ancient forests in France, exploring both the subject of painting trees, light, colour, texture, patterns relationships, shapes and so on.
In this particular case the objective was to push the natuaral colours to extremes
You can purchase a painting like this via our 'Payments' page using Paypal or bank to bank
By arrangement payments can be in installments.
You could commission a painting like this
T: + 44 (0)1865 52 2435 or Skype 'gordonfrickers'
Email: info@nullartfrickers.com
How much in my currency? Try our free XE Currency converter.
Copyright 2017:
Copyright fees and our Terms are among the most generous on the Internet, don't hesitate to ask for details by email, whatsapp, or phone+ 44 (0)1865 52 2435 M: + 33 (0)6 10 66 19 26
Gordon Frickers © 01.08.2003, updated 01.04.15, 06,03,16, 11.07.16, 26.08.2016, 28.04.2017