"Forest Project", a remarkable experiment. 

Trees, how to see the wood from the trees? : all these delightful paintings were composed while in the foret de Sivens and nearby, and painted on location in South West France.
"These paintings are more than a match for anything in the Musee d'Orsay" ~ Alain Soreano, author, historian.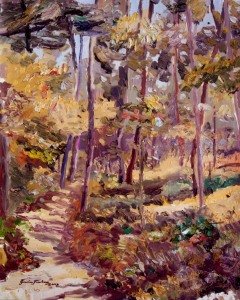 Hyperlink > Forbidden wild mushrooms available £2000.00
The Foret de Sivens in the Tarn [81] department is one of the two oldest unspoiled forests in France.
Trees are near impossible to paint in detail so my question was how to effectively paint the emotions, the aura, the ambience of trees?
What would happen if I decided to paint a series in the forest of Sivens, each study exploring different aspects of tree painting?
I took a large risk investing much time, prepared to learn and fail, the results are astonishing, highly individual.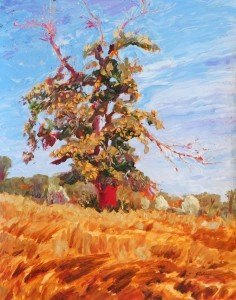 Each painting is a very individual study, art for art's sake,  and while there was no direct commercial intention in their spontaneous creation the results have proved remarkably popular perhaps because there is nothing else quite like them.
Payments can be made in easy stages.
Best value, buy from a dedicated artist- buy from a reputable, dedicated, established artist direct from his studio.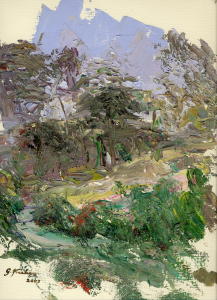 These highly original forest landscapes were created as part of a wider series of studies, experimentation and research I undertook, exploring my rare form of colour vision, miss named 'colour blindness',  qualities i share with some very famous painters, while based at the Painting School of Montmiral.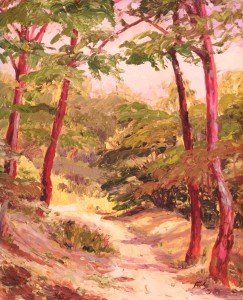 Results emerged with many 'colour surprises', my 'odd' eyesight, challenging accepted ideas of vision based on 3 primaries.
The price of these paintings was partly much insect repellent, essential while painting these …
Besides being very pleasing, mysterious paintings challenging our imaginations, on closer examination these pictures raise many unanswered questions about the nature of colour vision.
The foret de Sivens is renowned for its rare plants and herbs, many are available from the Pharmacy of Castelnau de Montmiral used medicinally and as perfumes.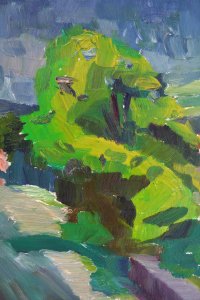 Trees, always a challenge, what to include, what to leave out…?
In days gone by the forest was a source of timber, meat and mushrooms (paye des Champignons), you can still see how charcoal was made, mostly it was shipped to Bordeaux for use in gunpowder.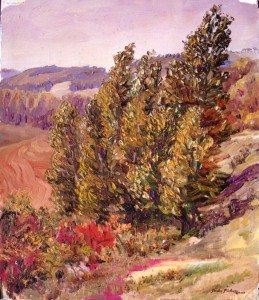 Three experiments on successive days, ways to paint "Trees in a breeze".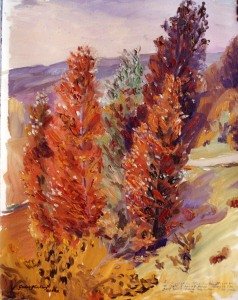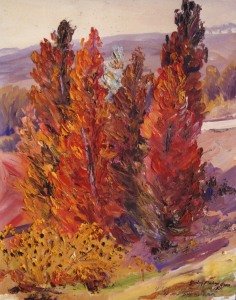 Trees and Pyrenees, sold
You acquire or commission a painting like these.
How much in my currency? Try our free XE Currency converter.
To acquire this or commission a similar painting
Contact US ~
T:+ 44 (0)1865 52 2435  or Skype 'gordonfrickers' ~ whatsapp, or phone M: + 33 (0)6 10 66 19 26
E ~ Important ! please substitute 'at' for @: artistfrickersatgmail.com
Copyright 2020

  

fees and our Terms are among the most generous on the Internet, don't hesitate to ask for details

 
Gordon Frickers © 17.02.2015 updated 09.01.2020

Copyright 2016: Gordon Frickers artwork and texts: For educational and private use for example we will allow a free copy. However please note. by International law these pictures and texts may only be copied after written permission and for commercial use, after a copyright fee has been agreed and paid.
Our fees are friendly our terms always reasonable.
Gordon Frickers © 17.02.15, updated  04.04.16