Trees, Woodlands and Forest experiments on locations, improbably painting the impossible, one of a series.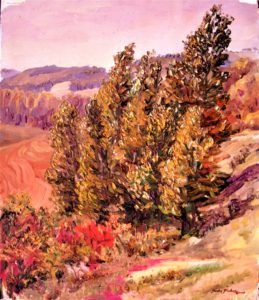 Tree painting 'plien aire' by Gordon Frickers  40 x 50 cm (15¾" x 19¾").
Available £ 1,500.00
> with your credit card Purchase Now  < via Paypal, in any currency, or  bank to bank; or in instalments by arrangement, contact Gordon Frickers.
How much in my currency?
 Try this   free XE Currency converter.
"Trees in a Breeze[1]" was first in a series I painted exploring ways to paint trees and my 'natural' as opposed to 'learned' colour vision.
Many distinguished people and renowned companies chose Frickers paintings as you can discover by reading my illustrated résumée.
Gordon Frickers paintings have distinctive, enduring qualities in part because he has an unusually rich form of colour vision, qualities, gifts he has in common with some of the greatest past masters including Cézanne Degas, Dürer, Titian and Rembrandt, Monet.
To acquire this painting go to the Payment page or contact us.
'Trees in a Breeze [1], Further Reading
Contact Frickers for exceptional paintings and prints
Landline : + 33 (0) 9 79 01 93 20
Mobile : + 6 10 66 19 26, E : artistfrickers at gmail.com
WhatsApp, Telegram.com or Facebook Messenger to  'gordonfrickers'
Email: artistfrickersatgmail.com : note, the 'at' is to fool robots and should be replaced with @ : if it arrives I always reply.
Websites : www.frickers.co.uk/art (marine & aviation)
& www.artfrickers.com (Landscapes & portraits).
Copyright 2022 and legal moral rights for painters :
Sharing my pages and posts for private use helps everyone.
For commercial use our Fees and  Terms  are among the most generous on the Internet.
Don't hesitate to ask for details.
Gordon Frickers © updated 11.09.2022
You are cordially invited to follow and share The Art of Gordon Frickers on his blog and or www.facebook.com/gordonfrickers.