Foret de Sivens, Tree paintings in ancient woodland, impossible painting so let's try ! Tableau par forêt par couteau léger.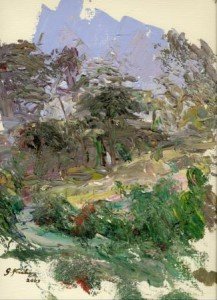 Foret de Sivens by knife, 35 x 25 cm (13¾" x 9¾"),  £ 1500. spontaneous painting by Gordon Frickers
> yours now £ bank to bank or by credit card Purchase Now < via Paypal, in any currency, or in instalments by arrangement, contact Gordon Frickers.
Any reputable gallery would be delighted to offer a painting of this quality painting for this price.
How much in my currency?  Try this   free XE Currency converter.
Foret de Sivens Painting
Typical of my paintings described as "More than a match for anything in the Musee d'Orsay" by Alain Soreano, author, historian, this is the second painting produced the same day, same location, an experiment using only palette knives and in part to use up left over paint.
A first study explored the light and colours leaving me with much paint to tempting to throw away.
The first picture was a slow considered response.
Having familiarised myself with the subject the challenge here was to be as spontaneous as possible working rapidly with the prepared colours and palette knives, no brushes.
The hours invested with such care earlier in the day paid off when this remarkable fresh and free study was made.
Frickers

for exceptional

paintings and prints
Landline : + 33 (0) 9 79 01 93 20
Mobile : + 6 10 66 19 26, E : artistfrickers at gmail.com
WhatsApp, Telegram.com or Facebook Messenger to  'gordonfrickers'
Email: artistfrickersatgmail.com : note, the 'at' is to fool robots and should be replaced with @ : if it arrives I always reply.
Websites : www.frickers.co.uk/art (marine & aviation)
& www.artfrickers.com (Landscapes & portraits).
Copyright 2022 and legal moral rights for painters :
Sharing my pages and posts for private use helps everyone.
For commercial use our Fees and  Terms  are among the most generous on the Internet.
Don't hesitate to ask for details.
Gordon Frickers © updated 11.09.2022
You are cordially invited to follow and share The Art of Gordon Frickers on his blog and or www.facebook.com/gordonfrickers.