Forest of Sivens, paintings of the impossible, trees, a woodlands and forest series.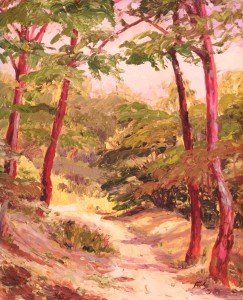 Forest of Sivens, 2,  40 x 50 cm (15¾" x 19¾"), £1,500.00,  landscape paintings by Gordon Frickers.
> yours now £ bank to bank or by credit card Purchase Now < via Paypal, in any currency, or in instalments by arrangement, contact Gordon Frickers.
Forest of Sivens 2, this painting
Are trees impossible to paint accurately?
This picture made on location in the forest of Sivens in the Tarn is one of a series exploring different aspects of the subject of trees and woodland.
The location was carefully chosen for its light, colour, texture and compositional, relationships.
This is one of three paintings made during a period of super hot stable weather.
Each painting was made at the same location at the same time of day but searching for different qualities.
In this particular case the objective was to push the artists anomalous colour vision to responses to natural colours, to switch 'off' his learned colour responses, to push hard but not to extremes and simply see what happened.
We hope you to enjoy your visit, found something you like and follow our posts. Kindly spread the word to all the collectors you know who enjoy and appreciate fine art, if you think this project deserves success, you can help us make this project widely know, thank you.
The Forest of Sivens is one of the two most ancient forests in France.
You can purchase a painting like this via our 'Payments' page using Paypal or bank to bank
By arrangement payments can be in installments.
Frickers

for exceptional

paintings and prints
Landline : + 33 (0) 9 79 01 93 20
Mobile : + 6 10 66 19 26, E : artistfrickers at gmail.com
WhatsApp, Telegram.com or Facebook Messenger to  'gordonfrickers'
Email: artistfrickersatgmail.com : note, the 'at' is to fool robots and should be replaced with @ : if it arrives I always reply.
Websites : www.frickers.co.uk/art (marine & aviation)
& www.artfrickers.com (Landscapes & portraits).
Copyright 2022 and legal moral rights for painters :
Sharing my pages and posts for private use helps everyone.
For commercial use our Fees and  Terms  are among the most generous on the Internet.
Don't hesitate to ask for details.
Gordon Frickers © updated 11.09.2022
You are cordially invited to follow and share The Art of Gordon Frickers on his blog and or www.facebook.com/gordonfrickers.