A large landscape painting measuring 76 x 1202 cms (30" x 40"), oils, by Gordon Frickers, for exhibition and available, ex studio. 
The painting
Painted about 5 years ago in my studio as an experiment to see how a 'plien aire' study might transform when produced as a larger picture.
The location is the valley of the river Vere a few kilometers North of Castelnau de Montmiral.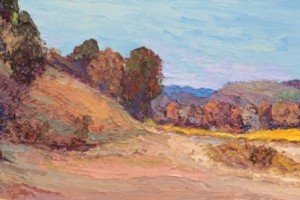 You are cordially invited to follow The Art of Gordon Frickers on www.facebook.com/gordonfrickers
Would you like to become one of the distinguished few who own an original Frickers painting?
It may be easier than you fear, talking is free and fun, contact us.
You can purchase securely via our 'Payments Page using Paypal or bank to bank.
We give you an unrivalled guarantee.
By arrangement payments can be in instalments. How much in my currency? Try our free XE Currency converter.
Contact Us
T: + 44 (0)1865 52 2435 or Skype 'gordonfrickers'
Email: info at artfrickers.com
Gordon Frickers © 0.07.15
Copyright:
In some cases, educational and private use for example free use is permitted. By International law these pictures and texts may only be copied after written permission and a copyright fee has been paid.
Our fees are friendly our terms very reasonable.