My tutor said "Wild pyrotechnics", expressing his astonishment, at The Painting School of Montmiral.
Under his guidance, painting 'plien aire',  I was developing my unusually complex, highly individual colour experience to advantage, in the manner and tradition of Turner, Cezanne and van Gogh.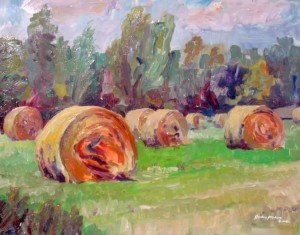 These breakthrough paintings "Red Bales 1 and 2" where a key moment in my understanding of colour as described in some detail  via the 'Further Reading' link in the text below.
I learnt to overcome difficulties with my eccentric  colour vision, learned to release the  "Wild Pyrotechnics", when I choose, or see as a colour normal person, thus turning what many see as a visual handicap, to advantage.
To see if I could achieve this was the main reason, 'why I went to the Tarn', although at the time I acted partly upon intuition, I would not have phrased it quite like that at the time
Deeply frustrated by the first painting I returned the next day and created a personal breakthrough, for the first time uninhibited by my unstable colour vision, spontaneously painting the colours as I saw them.
I have kept these two landscape paintings as points of reference, now I'm willing to let them go.
Each painting measuring 40 x 50 cm (15¾" x 19¾"), oils, for exhibition and available, ex studio.  available, £1,200.00
T: + 44 (0)1865 52 2435 
 E: artistfrickers@nullgmail.com
The painting
These paintings, created on successive days were made while I was 'unlearning' colour, exploring my very irregular colour vision.  
The subject was chosen as simple to draw, potentially complex to colour and within walking distance of Castelnau de Montmiral where I was studying at the painting school of Montmiral.
Further reading, photo details, main text
You can purchase via our 'Payments' page using Paypal or bank to bank
By arrangement payments can be in instalments. How much in my currency? 
Try our free XE Currency converter.
Contact Us
For this or to commission a similar painting, a pleasure to own, a sound investment, the easiest way is by instalments, bank to bank, ask us for details, or using PayPal via the Purchase Page.
Contact US ~
You can E me: artistfrickersatgmail.com, T:+ 44 (0)1865 52 2435 M: + 33 (0)6 10 66 19 26
or Skype 'gordonfrickers' or whatsapp, or phone
E~ Important ! please substitute '@' for 'at': artistfrickersatgmail.com
Best value, buy from a dedicated artist- buy from a reputable, dedicated, established artist direct from his studio.
Copyright 2018  fees and our Terms are among the most generous on the Internet, don't hesitate.
Gordon Frickers © 04.07.2015 updated 28.03.2016, 23.11.2017, 07, 10,2018
You are cordially invited to follow The Art of Gordon Frickers on his blog and or https://www.facebook.com/gordon.frickers