This painting is the third in of a series of studies made exploring light, colour and composition inspired by The Promenade of Castelnau de Montmiral.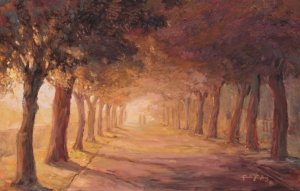 You will please excuse me, I shall write less than I could say.
think each painting holds a different conversation with each viewer; I'll leave much of that conversation personal, for you, your imagination, feelings and the painting.
You can discover more about historic Castelnau de Montmiral  one of the most beautiful villages of France and the beautiful  Tarn by exploring through the eyes and artist Gordon Frickers on this web site.
There is a brief history of Castelnau de Montmiral edited from an original text written by Francis Pratt.
You could purchase or commission a painting of this quality, phone, ask how.
Contact Us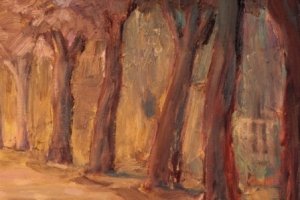 You are cordially invited to follow The Art of Gordon Frickers on
www.facebook.com/gordonfrickers
You could acquire or commission a painting like this.
You can purchase via our 'Payments' page using Paypal or bank to bank
By arrangement payments can be in instalments. How much in my currency? Try our free XE Currency converter.
T: + 44 (0)1865 52 2435 or Skype 'gordonfrickers'
Email: info@nullartfrickers.com
Gordon Frickers © 28.05.15, updated 26.06.15, updated 02.06.15
Copyright:
In some cases, educational and private use for example free use is permitted. By International law these pictures and texts may only be copied after written permission and a copyright fee has been paid.
Our fees are friendly our terms very reasonable.