The South West France Collection. Looking for the very best in new landscape art? You have found it here: Timeless paintings, the test of true greatness.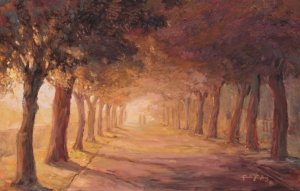 "Golden Days", measuring 61 x 91 cms (24″ x 36″), oils on canvas, available, £2,000.
Ex Studio, ex frame.
Dream like qualities a painting to enhance any home, Castelneau de Montmiral, a mysterious spontaneous landscape painting with a rich positive aura
You could purchase or commission a painting of this quality, phone, ask how.
Contact Us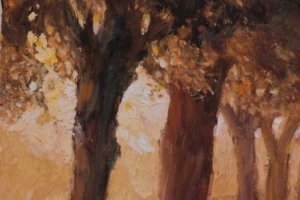 The painting
This painting came into being as a result of the artist turning out early one morning to observe and record a mysterious, misty morning at the bastide where the artist lived for 5 years.  
The painting is part of the feelings, myths, dreams, ideals he is experimenting with expressing via his art.  He says he intends to visit that scene again and several others of similar aura as he finds his art work increasingly turning to feelings, aspirations, inspiration, dreams.
"Maybe I am cracking up, maybe I am navigating "uncharted waters where monsters do live"?
My perspective is the location exists; partly in us all, and at the new castle upon the hill of the far seeing, a bastide in SW France, Castelnua de Montmiral, the Promenade".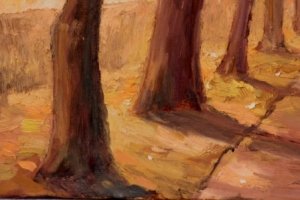 Further reading, photo details, main text
You could acquire this or commission a painting like this.
You can purchase via our 'Payments' page using Paypal or bank to bank
By arrangement payments can be in instalments. How much in my currency? Try our free XE Currency converter.
T: + 44 (0)18 65 52 24 35  Mobile 00 33 (0) 6 10 66 19 26
or Skype 'gordonfrickers'
Email Us ~ Important, please substitute @) for 'at': artistfrickersatgmail.com

Copyright 2017:
Copyright fees and our Terms are among the most generous on the Internet, don't hesitate to ask for details by email, whatsapp, or phone+ 44 (0)1865 52 2435 M: + 33 (0)6 10 66 19 26
Gordon Frickers © 21.05.15, updated 02.07.15, 28.05.2017, 05.03.2018
You are cordially invited to follow The Art of Gordon Frickers on his blog and Facebook.