"more than a match for anything in the Musee d'Orsay" ~ Alain Soreano, author, historian.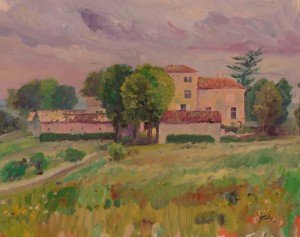 By Gordon Frickers 40 x 50 cm (15¾" x 19¾"), available, £1,200.

Looking for the best in fine art investments?
You have found one here. Grab it while you can.
Paintings that hang comfortably with the finest collections.
The painting.
Painted on location, typical of untypical properties in the remote mysterious L'Occitaine region of Midi-Pyrénées.
I'd carefully chosen my subject and view during a previous walk.
While working in the company of another artist, chance played its hand, The owner came out to see the happening.
He invited us to his chateau, a warm friendship developed.
At the time the property was owned by the very hospitable Claude and Sylvie Picault.
Claude Picault, a real gentleman with his wife the warm, hospitable, Sylvie, charming.
Claude was a former deck officer who I met when by designed chance when I painted' plien aire', his chateau near Castelnau de Montmiral.
Claude had sailed with the Companie Generale Trans-Atlantique, became a friend and commissioned two marine paintings, one of his last ship, the ex Liberty class 'Trun', the other of his family yacht.
Of the latter, Sylvie said, "a very nice yacht, at it's best 60 km inland in a field"… The painting showed Nizou IV sailing off Sicily, family on board.
You can find this beautiful painting in the 'Archive, Marine' section.
Unfortunately, as was the spectacular "Liberty Ship, North Atlantic", it was stolen from the Hotel Belvedere, Taormina, Sicily, a compliment we could have done without,  so the whereabouts of these original paintings are now unknown…
To acquire this or commission a similar painting, a pleasure to own, a sound investment, you can purchase in easy stages.
To make a purchase the easiest way is bank to bank, ask for details, or using PayPal via the Purchase Page.
Contact US ~ You can E me: artistfrickers@nullgmail.com, T:+ 44 (0)1865 52 2435 M: + 33 (0)6 10 66 19 26
or Skype 'gordonfrickers' or whatsapp, or phone
E~ Important ! please substitute '@' for 'at': artistfrickersatgmail.com
Best value, buy from a dedicated artist- buy from a reputable, established artist direct from his studio.
Copyright 2017:
Copyright fees and our Terms are among the most generous on the Internet, don't hesitate to ask for details by email, whatsapp, or phone+ 44 (0)1865 52 2435 M: + 33 (0)6 10 66 19 26
Gordon Frickers © 27,05,2017 updated 28.05.2017, 28.07.2018