This composition begged the be chosen and painted.
Carcassonne is set in a wide valley checkered with vineyards and  a rich  history set in south west France.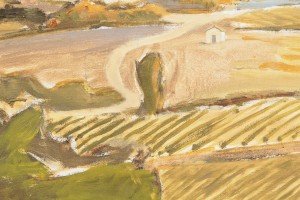 You can see several similar views if you take the Carcassonne Aire off the autoroute and pause to view this splendid city.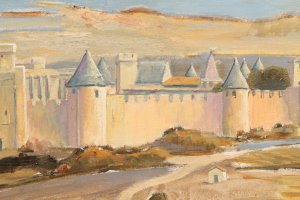 I chose to use a 'Power painting' method for this study.
Following a very carefully selected composition, my initial spontaneous reaction to the colours, exploiting my rather odd colour vision has been combined with accurate drawing skills to produce a picture that is immediately recognisable yet with many abstract passages to engage your imagination and stimulate emotions.
The design was initially marked out in charcoal. That worked so well with and when the first colours were added, I decided to retain untouched many of the original charcoal marks in place and retain the initial colours as 'power painted' in.
Thus we have accurate strong drawing and painting combined with the raw beauty of first impressions.
If you would like to own and enjoy an unusual and very original result working with a famous and instantly recognisable city; this is it.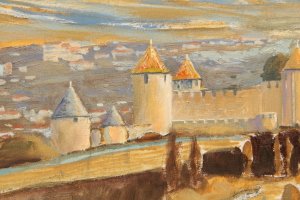 Carcassone, vines and the Black Mountains, why black?
This is a region rich in history with a mostly Mediterranean climate.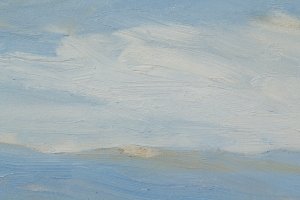 There are times in winter when the mountains do appear black.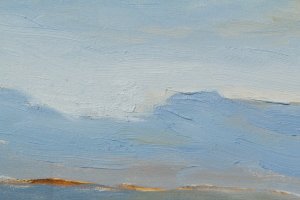 Then again with snow they can appear white so maybe we need to ask more questions about 'why black?'
The Black Mountains, Les Montagne Noire  or in the local language of Occitan: Montanha Negra, are now mostly a Park National, a voyage of discovery and surprises awaiting us and discover if you will, why they are named the Black Mountains.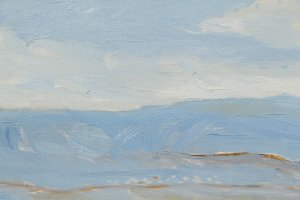 A  small range of mountains, rising 1,200m from the Toulouse plain, they have both rural charm and scenery to take your breath away – dappled forests and epic mountain lakes where the wooded slopes and pastures. The snowy peaks of the Pyrenees can often be seen in sharp focus from the other side of the plain.
The tranquility belies a violent history – it was here that the Cathars made their last stand against the Albigensian crusaders in the 13th century, and the French Resistance were active here during the second world war. The mountains have many gorges guarded by the ruins of ancient chateaux, forts and castles, ideal inspiration for novelists, romantic painters and film sets.
The Montagne Noire are caught in a time warp, anachronistic even for rural France. A dwindling population live in stone-built villages many of which have stood since the time of the Cathars. There's a real sense of wilderness. Wild beasts, boar, deer, others,  roam the woodlands and forest.
The Historic Fortified City of Carcassonne if you will listen, has a near mythical, almost fairy tale story to tell to you and some good inexpensive restaurants with a memorable ambiance in its heart.
This medieval walled city is without doubt the most famous, most fabulous monument between Monte Carlo and Bordeaux.
A fortified settlement has existed on the hill where Carcassonne now stands.
In its present form it is an outstanding example of a medieval fortified town and UNESCO World Heritage listed.
You are unlikely to be disappointed if you visit Carcassonne!
The tale of Carcassonne includes it's origins, the mysterious Cathars, exterminated as corrupter's of the church's message by Roman Catholic 'crusaders', of siege and an heroic defense ably lead by the first lady of the city, and not least of it's remarkable preservation by far sighted folk in the 19 th century
Carcassonne has been an unforgettable experience for many a traveler and tourist, visited by a very long list of distinguished people, a list as varied as Sir Winston Churchill, Mick Jagger, Mark Twain and Walt Disney.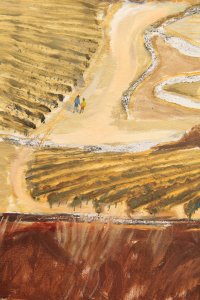 Vines set in a dusty plain, in wine terms, the western extremity of the Languedoc is not well known when compared to the more famous areas to the east.
There are three distinct, neighbouring wine appellations, for the most part set among the hills and woodlands to the south, west and north of the historic city.
Many good Vins de Pays are produced in the area too.
Carcassonne Tourist Office,
28 Rue de Verdun, 11890 Carcassonne
Tel: 04 68 10 24 30 / Fax 04 68 10 24 38
Email: accueil@nullcarcassonne-tourisme.com
Website: www.carcassonne-tourisme.com
 ~
Telephone Gordon Frickers: + 44 (0)1865 52 2435 
or Skype 'gordonfrickers'
Email: info at frickers.co.uk
Copyright 2016: Gordon Frickers artwork and texts: For educational and private use for example we will allow a free copy. However please note. by International law these pictures and texts may only be copied after written permission and for commercial use, after a copyright fee has been agreed and paid.
Our fees are friendly our terms always reasonable.
Gordon Frickers © updated 05,03,16