Israel Collection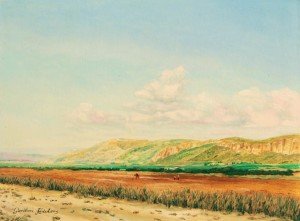 A Landscape Painting measuring 31 x 41 cms (12″ x 16″), oils, £ 1,000 ( approximately 1,445 US $, 1286 Euros)  by Gordon Frickers,  available, ex studio ex frame..
How much is that in my currency? Use this  FREE fun XE Currency converter
The Painting
A gentle landscape of pastel colours first seen as I approached Haifa from the south and encountered Mount Carmel rising up from the fertile plain facing the Mediterranean Sea.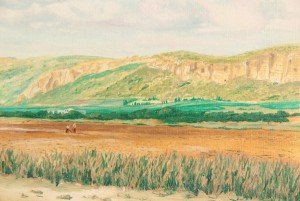 Soon after I learned much of the mount, famously mentioned in the Bible in particular in relation to the prophet Elijah is justifiably a national park.
"Gather all Israel to me at Mount Carmel": 1 Kings 18.19.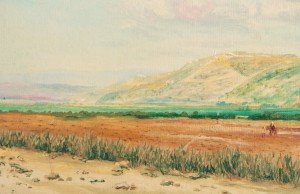 Many years later I was to name my daughter 'Hannah Carmel' in the hope she would live up to those names; Hannah after my Mother, Carmel because it's unusual and a beautiful place that exudes goodness.
You are cordially invited to enter the magic world of The Art of Gordon Frickers on www.facebook.com/gordonfrickers
Can you like to become one of the distinguished few who own an original Gordon Frickers painting?
It may be easier than you think, contact us.
You can purchase securely via our 'Payments Page' using Paypal or bank to bank.
We give you an unrivaled guarantee.
By arrangement payments can be in installments. How much in my currency? Try our free XE Currency converter
T: + 44 (0)1865 52 2435 
or Skype 'gordonfrickers'
Email: info at frickers.co.uk
Copyright 2016: Gordon Frickers artwork and texts: For educational and private for example we will permit free use. However please note. by International law these pictures and texts may only be copied after written permission and for commercial use, after a copyright fee has been agreed and paid.
Our fees are friendly our terms always reasonable.
Gordon Frickers ©  10,02,16