Painting on the Isle de Noirmoutier, off The Vendee coast, France, an island of sand, salt, wind and pines.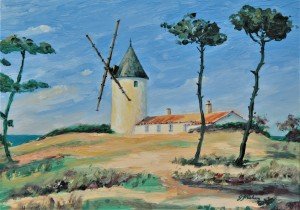 Painted By Gordon Frickers, fine art,  23 x 33 cm (9 1/4″ x 13″), oils, available, £850.
 Purchase Now  £/€ while you have the chance, Paypal or bank to bank; life is short, you may not get a second chance …
or by arrangement with Gordon Frickers, in instalments.
Isle de Noirmoutier is a charming coastal landscape is as I write hung on my salon, it could  bring to your home, or office a refreshing ambience of open skies, clean beaches, woodland and ocean, pirates and gourmet foods.
Painted on the Isle de Noirmoutier, off The Vendee coast, an island of sand, wind, ocean, pines and new potatoes, the Isle de Noirmoutier has many secrets worthy of discovery by children of all ages including some of the best sea salt of France  a surprising swimming pool, the most mellow late spring temperatures, ideal for a spring break, a micro climate in late May and June.
The Isle de Noirmoutier is connected by bridge to the mainland, as the inhabitants like to say, "to Europe".
Beautiful Noirmoutier has a tradition of individuality and at one time, unbiased piracy, the inhabitants were as please to attack a French ship as one of any other nationality .
T : Mobile 00 33 (0) 6 10 66 19 26
or Whatsapp 'gordonfrickers'
Email: info at frickers.co.uk
Copyright 2020 fees, our Guarantee, our Terms are among the most generous on the Internet so don't hesitate to ask, you will be in honest, experienced hands.
Gordon Frickers © 14.12.2017, updated 19.07.2020