Everyone should believe in something. I believe I should go to the beach.
 Vendee Trail measures 50 X 40 cm (20″  x 16″), oils, by Gordon Frickers, available, £750,. ex frame, ex studio.
On your wall this painting will make you feel good every time you see it once you know the place and / or the story.
Contact Us.
T: + 44 (0)1865 52 2435 or Skype 'gordonfrickers'
Email: info@nullartfrickers.com
You could acquire or commission a painting like this.
You can purchase via our 'Payments' page using Paypal or bank to bank
By arrangement payments can be in installments.
How much in my currency? Try our free XE Currency converter.
The painting
When first painted the cyclist was wearing a white T shirt, in consideration of the achievement that was changed to a yellow jersey…
Painting Inspired by the Artists son.
The Vendee Forest basks behind low sand dunes and beautiful sandy beaches.
The Vendee trail runs mostly through sweet scented pine forests, designed for walkers, hikers and cyclists follows the Atlantic Ocean coast of France South from the river Loire.
Gordon Frickers has painted many times in the Vendee and on L'isle de Nourmoutier a region blessed by a warm climate (usually over 20 C from mid May) good food and healthy air. This painting resulted from a family holiday.
For weeks his 7 year old son had been trying to ride a bicycle in the family's back garden and local park.
On a bike hired at St Jean de Monts the lad suddenly mastered the technique, took off in a flurry of pounding knees and was not see again for half an hour while be busied himself with exploring his new freedom.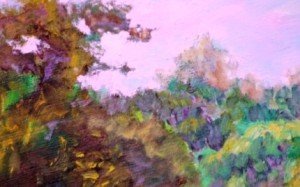 T: + 44 (0)1865 52 2435 or Skype 'gordonfrickers'
Email: info@nullartfrickers.com

Copyright

 fees and our 

Terms

 are among the most generous on the Internet, don't hesitate to ask for details  
T:+ 44 (0)1865 52 2435 
or Skype 'gordonfrickers'
Email: info at frickers.co.uk
Email:

artistfrickers at gmail.com
Gordon Frickers © 17.02.15, updated 08.06.15, 14.12.2017, 05.03.2018