Saint Austell Bay, Cornwall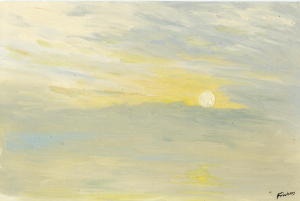 22 x 33 cm (9″ x 13″), oils, available, £650. by Gordon Frickers
 A very Turneresque oil study, it is nothing and yet as it engages your imagination it is everything; apparently simple, painted with a remarkable sureness and confidence.
"The White Sun" is one of many, I made from my studio window when I lived behind the beach in my South facing home at Par, Cornwall.
In 5 years at Par,  I never once saw 2 sunrises or sunsets the same.
This apparently simple yet timeless painting would make a royal gift, the more you look the more you see, it passes the test of  true greatness, a classic, the of best long term fine art investments.
If you are looking for the best you have found it here.
"The White Sun" painting radiates peace, calm and karma, from the happiest periods of my life, owning it will bring you luck.
Contact US ~ 
T:+ 44 (0)1865 52 2435 ~
 E: Important ! please substitute 'at' for @: artistfrickersatgmail.com
How much in my currency? Try our free XE Currency converter.
Payments may be made by instalments.
To acquire this or commission a similar painting available, excellent value, this one at £650. can be acquired by payments in 4 easy stages.
Copyright 2018

 

fees and our Terms are among the most generous on the Internet, don't hesitate to ask for details

 
Gordon Frickers © 08,04,2018
Gordon Frickers © 14,04,2018 updated
This timeless painting will give you pleasure every time you see it upon your wall, an excellent investment.