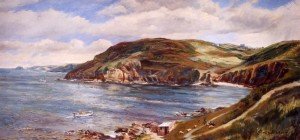 By Gordon Frickers, this fine piece of artwork would greatly enhance an elegant lounge or dining room, measures 46 x 91 cm (18″ x 36″), oils, price on application
You could commission a painting of this quality, phone, ask how.
The painting
This painting of Penwerris Cove near Lands End was part of Gordon Frickers first series, coastal views of Cornwall and Devon,  one of only three left for sale.
For many years 'Penwerris Cove' was hung in the lounge of Gordon Frickers home.
Now made available it would make a worth piece to place over any mantelpiece.
The painting was one of the results of many visits to West Penwith, a region of many myths and legends, mermaids and sailors it is the far west, the most Celtic part of Cornwall.
An early example of Gordon Frickers work was produced in the artists studio when he was living at Par, Cornwall.
Penwerris Cove on the remote, wild and sometimes savage coast of South West Cornwall is best visited via the Coastal foot path.
You are invited to follow www.facebook.com/gordonfrickers
T: + 44 (0)1865 52 2435 or Skype 'gordonfrickers'
Email: info @ artfrickers.com
You can acquire or commission this fine art online via our 'Payments' page using Paypal or bank to bank
By arrangement payments can be in instalments.
How much in my currency? Try our free XE Currency converter.
Copyright

 fees and our 

Terms

 are among the most generous on the Internet, don't hesitate to ask for details  
T:+ 44 (0)1865 52 2435 
or Skype 'gordonfrickers'
Email: info at frickers.co.uk
Email:

artistfrickers at gmail.com
Skype (gordonfrickers)
Gordon Frickers © 17.03.15, updated 15.12.2017
~ HOME ~ CONTACT ~ CV / Resumee ~ TERMS ~ ADVERTISE YOUR BUSINESS ~ Buyers Guide ~ COPYRIGHT ~
+ 44 (0)18 65 52 24 35