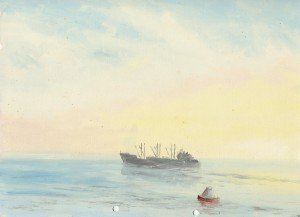 Coastal art by Gordon Frickers 22 x 30 cms (9″ x 12″), oils, price £550, ex studio, ex frame.
You could purchase or commission a painting of this quality, phone, ask how.
The marine painting here
A painting made on location, plien aire, of a coaster off Par Beach buoy, having just cleared Par Docks , started life as a page in a sketch book.
It was one of a series much influenced by J M W Turner, painted spontaneously in early morning light enabling the artist to discover some of the colour and atmosphere of the Cornish coast.
So soon all is history, the coaster and her sister have gone, the China clay trade after 200 years, ended from Par, the docks have closeddestined to become another marina, the working village of Par will second homes.
At the time I did not realise what a sensitive, special and valuable work I'd painted, some one is going to be the lucky owner.
You are cordially invited to follow www.facebook.com/gordonfrickers
Gordon Frickers © Updated 25.03.15
T: + 44 (0)1865 52 2435 or Skype 'gordonfrickers'
Email: info@nullartfrickers.com
You could acquire or commission a painting like this.
You can purchase via our 'Payments' page using Paypal or bank to bank
By arrangement payments can be in instalments.
How much in my currency? Try our free XE Currency converter.
Copyright:
These pictures and texts may only be copied after written permission and a copyright fee has been paid.
Our fees are reasonable, in some cases a free use is permitted. Better to contact us than have our lawyers contact you.
Gordon Frickers © 20.03.15