You would like a distinctive portrait painting, a portrait painting of enduring worth?
This page and its hyperlinks introduce a few of the portraits painted by the artist Gordon Frickers.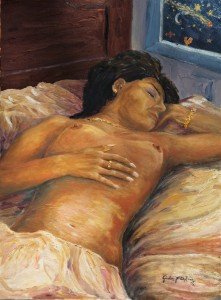 I like painting portraits although I don't look for portrait commission, I will paint portraits if asked.
Payment for a commission is easy and affordable, usually in instalments via a credit card of bank to bank.
> with your credit card Purchase Now  < via Paypal, in any currency, or £/€, or bank to bank; or in instalments by arrangement, contact Gordon Frickers.
How much in my currency

?
Many of my portraits are miniature, details in sea and landscapes !
This has much truth in it as for example my "Port of Chester 1863" has 38 figures all about that size in it (seven horses, four swans and a dog peeing on a bollard).
More seriously, there is nothing so impressive in a home or office as a personalised competent portrait painting.
T : Mobile 00 33 (0) 6 10 66 19 26 or Whatsapp / Facebook Messenger 'gordonfrickers'
Email: info at frickers.co.uk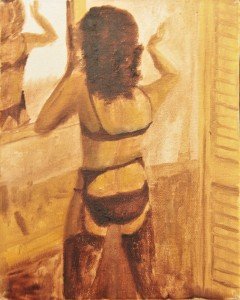 Painted from a series of photographs I shot while visiting the island of Crete.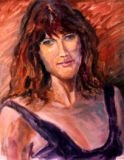 Karen's portrait was painted in my studio in one long session with intermissions.
I really should make more time for life sized portraits they are such fun to make and fascinating to see after.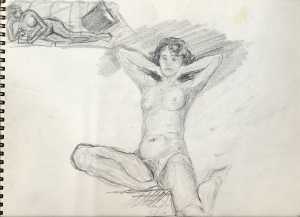 However, working from photographs is inevitable.
The photographic portrait method goes back a long way, at least as far as Canaletto who used a "camera obscura", a primitive yet effective camera.
Today we can do better than that by working from a selection of portrait photographs.
I prefer to shoot my own photographs of my subject however often this is not possible..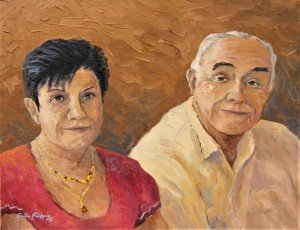 Above, a portrait from a supplied photograph.
David Hockney wrote an interesting paper on how Dutch artists used the camera obscura for portraits and still life subjects.
Painting portraits is requires special skills not unlike the skills require for ships and boats.
A portrait, which may of may not show the sitters in their environment, be it person or ship is either 'right' or rubbish, there is no half way.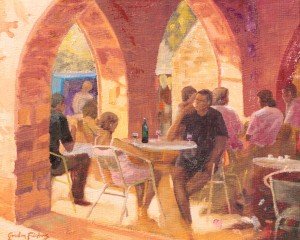 'Cafe Culture',
Painted having visited the location.
All professional painters must have at least most of these skills.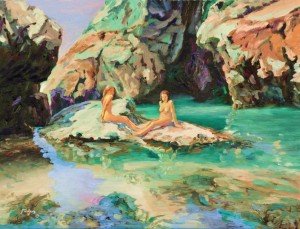 Fortunately I trained (Medway College of Art, photography for fashion, advertising and the press) and worked as a assistant, later as a photographer.
With 30 + years experience painting I can work with confidence from photographs with out making the numerous mistakes usually made by people who copy photographs.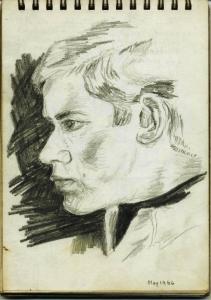 This sketch was made in May 1966 using mirrors, a self portrait I found with notes from my college days.
The notes and sketches with  intimate thoughts of a lad yet to discover his destiny and fate.
How much in my currency? Try our free XE Currency converter.
Acquire, simply, securely; to place a deposit or payment on our Purchase page  to make this or a similar painting, yours.
T : Mobile 00 33 (0) 6 10 66 19 26 or Whatsapp / Facebook Messenger 'gordonfrickers'
Email: info at frickers.co.uk
Copyright 2020:
Fees and our Terms are among the most generous on the Internet, don't hesitate to ask for details.
Gordon Frickers © updated 03.10.2020