Sainte Emilion, the sentinel, the King's Tower.
One of the Bordeaux Famous Wine Villages Collection, a beautiful series yet to be exhibited in public.
Now here is an opportunity for you, exhibit with products of the region !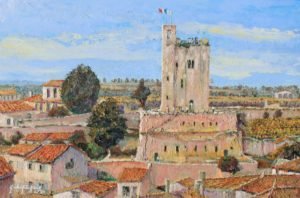 "The King's Tower" of Saint Emilion 40 x 61 cm (16″ x 24″), oils, by Gordon Frickers, £ 1,400.
Saint Emilion, a classic view, a timeless painting, n excellent investment of enduring interest, to give you pleasure every time you see it upon your wall.
Any reputable gallery would be delighted to offer this painting for this price… 
 Purchase Now  £/€ while you have the chance, Paypal or bank to bank; life is short, you may not get a second chance …
or by arrangement with Gordon Frickers, in instalments.
How much in my currency?  Try this   free XE Currency converter.
Exploring Saint Emilion
thoroughly is one of the great pleasures of life, so many surprises for you to discover.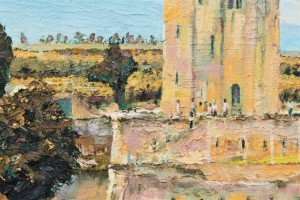 A beautiful, desirable painting my son has chosen another painting very similar in his lounge, I usually see that painting  when we speak via our WhatsApp Video Link. 
Painting at Sainte Emilion,
the location is carefully chose for each of the paintings.
This painting is developing here started life as a location 'plien aire' sketch.
The wines of Saint Emilion are among the most world famous, the little town offers you splendid views, beautiful moments, St Emilion is among the most picturesque and interesting in France.
How much in my currency? Try our free XE Currency converter.
You can purchase via our 'Payments' page using Paypal or bank to bank
By arrangement payments can be in instalments, contact us.
Background history, images and the development of this painting.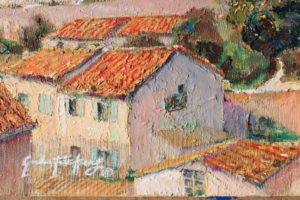 T : Mobile 00 33 6 10 66 19 26
or Whatsapp or Telegram, 'gordonfrickers'
Email: info at frickers.co.uk
Frickers paintings have been and are the choice of many distinguished people, renowned companies and for the front cover of more than a few books as indicated by Frickers unusual illustrated resumée.
Gordon Frickers is widely considered a master of spectacular painting.
 fees, our Guarantee, our Terms are among the most generous on the Internet so don't hesitate to ask, you will be in honest, experienced hands.
Gordon Frickers ©  updated 01.10.2020