A very personal brief account of 3 very full memorable recent days and 4 nights with my son, good bonding stuff.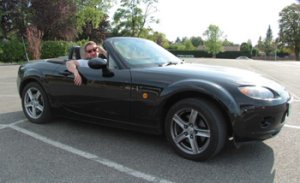 Graham arrived tired and pleased, his first visit to the Tarn.
His new love is a Mazda MX5; as anyone who enjoys driving a though bred car can appreciate.
A car evolved from the Lotus Elite and Lotus Elan.
He drove here in part to try out his new toy.
I soon realised one of my tasks was to find suitably wiggly roads for play time.
As luck would have it he had chosen a most beautiful route for the final approach to the Tarn, wiggly too, through the gorge and valley of the Vere.
He said, the best part of the long drive south, south, south.
Our first evening passed all to soon while I made him a favourite meal.
We talked mostly about his drive down through France and foods we like.
On day one we toured under a clear blue sky, 5 bastides.
Graham met my 'French sister' Helene Ancelot who speaks good English and has kindly lent bedding and a mattress.
We visited her home in Castlenau de Montmiral.
We sampled 'cafe coffee culture' with Helene at the bar Les Arcades in the center of the village.
We stopped for lunch at spectacular Puycelci where the patron of Le Roc Cafe.
Fred, (www.puycelci-roc-cafe.fr) greeted me like an old friend.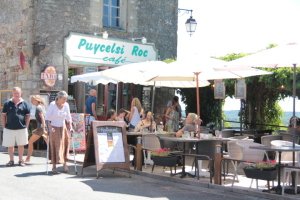 Doubly pleasing is the location is very romantic.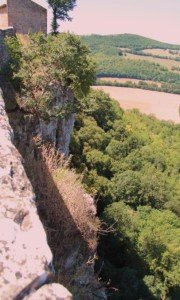 We the drove further into remote North L'Occitain, the gorge de Vere; through Larocque to Bruniquil, we walked our third bastide.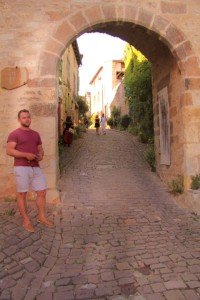 Next we were moving on to Penne where there was a 'Fete Medieval'.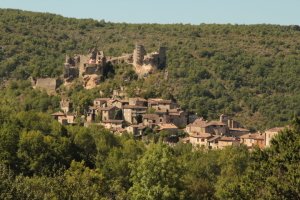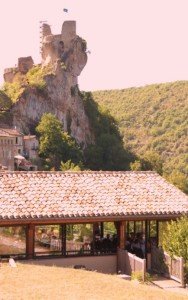 Having briefly explored little Penne we drove rather rapidly through the very ancient deep dark forest of Grisgne.
On of the pleasures of driving in France is in many places there is very little traffic, many narrow wiggles in the road, Graham 'on a high', thus we arrived at the famous Cordes sur Ciel, yet another impressive 13 th century bastide; as were the others, built to the order of Raymond VIII Count of Toulouse to fortify his Northern frontiers against the barbarian French and English.
From there I was treated to trying the Mazda for the run home over the Cordes plateau through vineyards and sunflowers towards the valley of Gaillac.
I successfully managed to make Graham nervous by pushing his car a little more than he did, not really a problem as I know the route very well ; and have driven a car before…
The following day was a bit chaotic.
Following a 'cunning plan' we sampled the products of two vineyards, one modern the second very traditional.
An all new experience for Graham's French and wine knowledge.
The Gaillac area has several grape varieties that date back to pre history and are found no were else in France.
If you really want to discover what Roman and pre Roman wine tasted like you should discover the old methods and grapes of the region that for centuries has been marketed as 'Vin du Coq'.
I have recently started a painting and literary project about Gaillac and it's wines. You can follow on www.artfrickers.co/blog
The remainder of the day became a rest and swap news day, he again risked my cooking.
His job, marketing educational software for an American company which he is enjoying and clearly very good at, caught up with him.
He had to prepare for an International conference via Skype that night.
On his third day our plan to take a run to Carcassonne and on to the Med went overboard due to rain and mist.
We made a leisurely start to the day and his request I made a large 'English' breakfast.
I'd forgotten just how many victuals a healthy, muscular 28 year old can stow…
I was being reminded.
The rain eased off so instead we drove via Albi south to Castres and The Black Mountains.

Most of the Black Mountains are a huge Regional Park richly endowed with forest, gorges, streams, lakes, bits of very old France and many narrow wiggly roads not really suited to horse drawn conveyances, ideal for rally cars.

We drove following my map navigation, better than a GPS under the circumstances, up into cool silver grey low clouds, beautiful soft colours tinting the thick forests.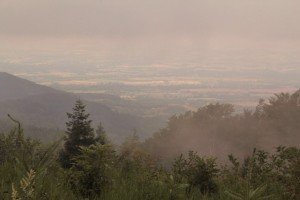 My father before me and son after me, we love wiggly roads, ideally among cliffs, plunging gorges with lots of hair pin ( Z ) bends and places where the bonnet of the car points firmly up; or down.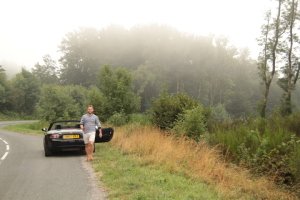 Grass growing up the middle of the road works for us too.

Eventually, steadily, via a spectacular, narrow, surprising gorge, we descended into the Minervois wine region of the Mediterranean plain into brilliant Med sunshine.
We stopped by chance for a very late impromptu lunch in a very charming tree lined village, (Villeneuve Minervois?) refreshing ourselves under their sunny shade at a cafe run by a French rugby enthusiast.

The interior is adorned with T shirts, water pistols and trophies.
Our kind of place; we particularly approved the fine water pistol collection and its possibilities.
We were severed by a very amicable patron and soon fell into conversations with other folk on nearby tables as you do in southern France.
I was allowed the privilege of driving us back over the mountains, more wiggly roads, this time driven chauffeur style, and thus home via Albi to refresh.
Rather than have me cook again we settled for a treat, dinner on the terrace of a favourite Gaillac restaurant.
Final morning at 08.50: I had to rush into Gaillac.
You guessed why?
To buy more large quantities of breakfast…
Not for me; I have eaten enough for a week, or two…
Graham down loaded some of my music for his return journey.
We found a little time to hear more of his plans and choose a painting.
Then ~ Surprise!
My friends from Albi, Laurent and Sylvie Queyrell arrived unexpectedly to meet Graham.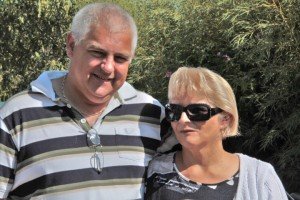 We had tried to meet them the day before but they were unavailable.
We all love giving and receiving hospitality so I was delighted Graham could meet two friends who speak almost no English and are among the most delightful people I have ever met.
Previously Graham had noticed when we visited Helene, I'd simply opened the front door and called out those immortal French words "coucou, hellooooo?"
He likes that; so do I.

Photos were duly taken, Sylvie repeatedly saying "un jeune Gordon!!!" (a young Gordon!!!) and fell in love with Graham who she has long wanted to meet.
Laurent and I talked about man stuff, wheel bearings for my trailer.
Laurent and Sylvie repeatedly expressed their extreme disapproval of my plan to move to Brittany for the winter.
12,00 hrs.
On schedule the moment had to arrive.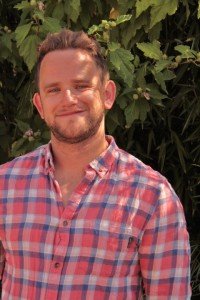 Final hugs, parting words.

Can you imagine my mixed feelings watching my son take the helm of his car and disappear down the drive, 700 miles still to run… ?
When, if, will we see each other again ?

He said when the time comes he will give me a 'Viking Funeral'.
I take that as a compliment.
He drives skillfully, a credit to those who taught him, my Father taught me, I taught him.
I am no longer worried he owns a sports car.