Monday, December 3rd, 2018
'Hag sameah' to all my Jewish relatives and friends.
A belated Hannuka hag sameah to you too, I've been busy, I've been ill [almost shipshape now] or I'd have sent you my 'hag sameah' sooner.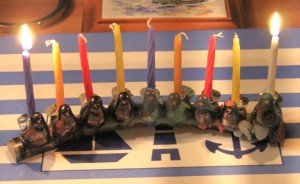 To my non Jewish friends, 'shalom', peace, and if of interest, a brief [by Jewish standards… ] explanation of 'Channukah'. 
The story behind the festival is inspirational, one of a successful struggle against seemingly impossible odds.